Catholic Women's Conference: March 10, 2018
Stop by our booth at the Indiana Convention Center to say "Hello!"
---
Pro-Life Issue Panel: March 15, 2018
Debbie will be sharing her witness and how God's Divine Mercy changed her life on this panel for the St. Joan of Arc Right of Christian Initiation for Adults program. Please lift her and all in prayer!
---
Reaching Out Sunday: April 8, 2018
On Divine Mercy Sunday, Debbie will speak briefly at St. Barnabas about the Healing Hidden Hurts ministry and have a booth in the narthex. She will be available for consultation and will distribute post-abortion materials and accept donations. Mass times are: Saturday 5 pm.: Sunday 7, 9 and 11 am.
---
Future Full of Hope Masses
Comfort those grieving the loss of a child through miscarriage, stillbirth, abortion, as well as infant and early childhood losses. These Masses are co-sponsored by the Office of Pro Life and Family Life, Indy Fertility Care and Healing Hidden Hurts.
Please check back for upcoming dates.
---
PAST EVENTS
Pro Life Dinner: October 28, 2017
Debbie will be sharing her witness at the Pro-Life dinner at St. Michael Parish in Greenfield, IN on Saturday October 28, 2017.
For more information visit http://www.stmichaelsgrfld.org/
---
Parish Visit - St. Bartholomew: October 8 & 9, 2016
Debbie shared her testimony during the Saturday and Sunday Masses at St. Bartholomew Catholic Church in Columbus, Indiana.
Mercy & Medicine - Building a Culture for Life! (Tuesday April, 19, 2016 7pm)
@ Marian University's Michael A. Evans Center for Health Sciences, Rm 150 Lecture Hall 1
Join us for an evening to raise awareness for those in the medical field on how we can work to foster a Culture for Life.
Hosted by the Healing Hidden Hurts Board of Directors and Marian University Campus Ministry, the event will include speakers Dr. Casey Reising and Rev. Kevin McCarthy of the radio program 'The Faith Filled Physician' as well as Debbie Miller, founder and president of Healing Hidden Hurts.
The evening also includes a Q and A forum and refreshments. This event is free and open to all.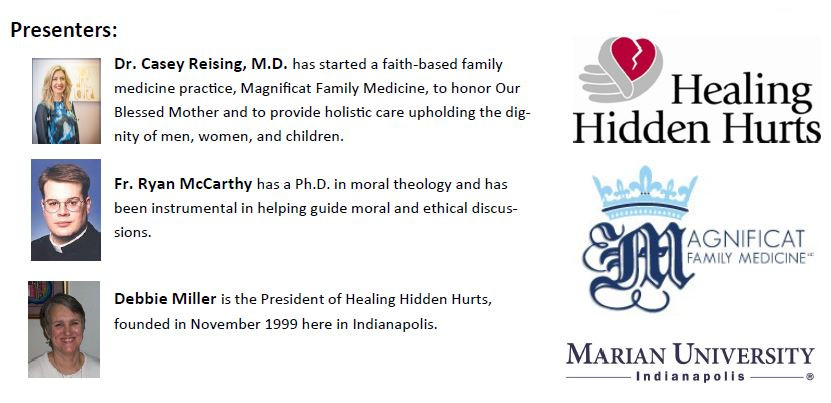 ---
Hope for Healing: the Healing Hidden Hurts short film debut and Supporter Appreciation Event March 19, 2015
On March 19, 2015 Marian University's San Damiano Scholars hosted a Hope for Healing event for us at Marian University in Indianapolis. The films debut was a way for Healing Hidden Hurts ministry to thank our faithful and generous supporters who contributed to the production. Blackstone films produced three films in which three women; Lisa, who was in high school; Flora, who was in college; and Debbie, who was married, tell their abortion stories and journeys of healing.
The evening of the event, approximately 40 guests attended and the San Damiano students led a Rachel rosary on the campus grounds. Afterward, a solemn Mass honoring St. Joseph on his feast day was held in the Evans Center chapel followed by the films debut in a lecture hall.
---
Parish Visit - October 12, 2014
Debbie will share her testimony during the Masses at St. John Vianney Church in Fishers, Indiana. Mass times are: Saturday Anticipation Mass 4:30 pm; Sunday Mass 8:00 and 10:30 am. Private consultation will be available.
---
Seminar - November 14, 2014
Debbie will offer a Healing Hidden Hurts Seminar at St. Louis de Montfort Church in Fishers, Indiana on Friday evening in the Parish Youth Center from 7 – 8:30 pm. Come and learn ways to help your loved ones and friends who have been hurt by abortion. Those who will attend the Facilitator Training (see below) on Saturday should plan to attend the Seminar.
---
Facilitator Training - November 15, 2014
Debbie will offer a Facilitator Training for the HHH Ten-Step program for women at St. Louis de Montfort Church in Fishers, Indiana. The Sessions will be held in the Parish Youth Center from 9 am – 6 pm. Registration is required and attending the Friday evening Seminar is recommended. Cost is $130.00 which includes all materials. Scholarships are available.For more information and to REGISTER ONLINE please click here.
---
(click on the "OUR SERVICE" tab above for more general information about these events)